Our Team
Dr Mark Anderson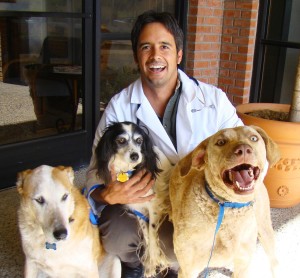 Born and raised outside Albuquerque, New Mexico, Dr. Mark Anderson received his veterinary degree from Murdoch University in Perth, Australia. Prior to attending veterinary school, however, Dr. Anderson received his Bachelor of Science (B.S.) in Mechanical Engineering from Colorado State University. Dr. Anderson enjoyed working as an engineer in the environmental industry, which provided him with the opportunity to work throughout much of the western United States, including Wyoming, Washington, Utah, Nevada, California, and New Mexico. It was after spending a year working at a wind powered electrical plant in Costa Rica that Dr. Anderson made his way to Australia to fulfill his dream of becoming a veterinarian. Shortly after graduating from veterinary school, Dr. Anderson returned to the United States, quickly establishing deep roots in Southern California and making San Diego his home. Dr. Anderson stays up-to-date on the latest developments in the diagnosis and treatment of veterinary disease through countless hours of continuing education, and via membership to online boards, which gives him access to guidance from specialists throughout the world whenever the need should arise.

Over the years, Dr. Anderson has developed special interests, knowledge, and skills in soft tissue surgery, hip dysplasia, orthopedic disease, cruciate repair, stem cell therapy, dermatology, pain management, and ultrasound. Dr. Anderson is certified in the PennHIP radiographic procedure, which allows Dr. Anderson the ability to make appropriate recommendation(s) for corrective/preventative actions for dogs at risk of having hip dysplasia. His diagnostic credentials include, among others, certification through Oncura for diagnostic abdominal and cardiac ultrasound. Dr. Anderson is also a member of the American Association of Feline Practitioners, ensuring your feline pet the best management and care whether visiting the hospital for a wellness exam, or in the case of illness or injury. As well, he is a credentialed VetStem veterinarian, capable and skilled at applying stem cell therapy.

One facet of medicine that Dr. Anderson particularly enjoys, is developing practical solutions (non-surgical and surgical) for difficult, unique, and/or chronic cases and problems. Challenge him with your pet's difficult problems — he looks forward to working with you to provide your pet with long term relief!

Dr. Anderson enjoys experiencing the world through the eyes of his hilarious and energetic 2 year old daughter. They both share their home with their two dogs - Oliver, a goofy four year old Chesapeake Bay Retriever mix rescue, and Vela, a sweet Cavalier King Charles Spaniel mix that Dr. Anderson rescued 14 years ago when he was working in Costa Rica.

As the new owner of the Bernardo Heights Veterinary Hospital, Dr. Anderson is excited to join the amazing BHVH team, and to meet you and your family of pets!
---
Dr Ira Abrams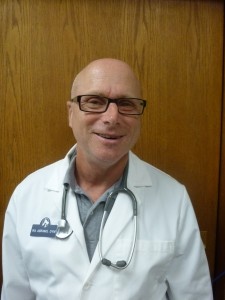 Dr. Abrams grew up in Chicago, Illinois. He graduated from the University of Illinois' College of Veterinary Medicine in 1979, where he was proudly the Valedictorian of his class. Upon graduation, he worked for one year in Chicago and then he migrated to warmer weather in Los Angeles, California. After a year as an associate veterinarian in a small practice, Dr. Abrams moved to San Diego where he did relief veterinary work for several practices. He subsequently bought his own practice in San Marcos, California in 1985. After 21 years, he decided to sell his practice so he could spend more time with his wife and 18-year old son. In his spare time, Dr. Abrams enjoys traveling and attending sporting events with his family. He also enjoys spending time with his Lab mix, Bart, and his cats, Sabrina and Charly.
---
Leslie, Office Manager, Registered Veterinary Technician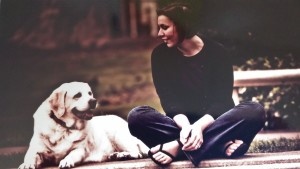 Leslie has been working with animals since she started as a kennel assistant in 2001. She received her RVT credential in September 2009 after finishing the alternate route program at Mesa College. She continually increases her knowledge of the field by attending veterinary lectures and seminars. She has worked at various clinics in San Diego and Los Angeles where she is originally from. She has three pets; two cats, "Stash " and "Bonsai", and a yellow Lab, "Mo", all of which she rescued. She enjoys spending her time at home with her husband as well as traveling abroad.
---
Sara, Lead Registered Veterinary Technician
Sara attended Brown Mackie College where she received an Associates of Science degree in 2014. Sara has been working in the veterinary field for five years and is a RVT in the state of Indiana. Sara moved to San Diego in July of 2017 from South Bend, Indiana where she grew up. Sara has two dogs, a long hair chihuahua and a border collie mix. For fun, she enjoys taking her dogs to the beach to run, listening to live music and swimming.
---
Sandi, Registered Veterinary Technician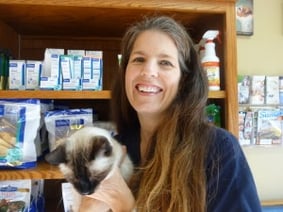 Sandi is a native San Diegan who graduated from UCSD with a degree in Biology. She started working in the veterinary field in 1990 and received her RVT credential in 1994. In her free time she enjoys reading, skiing, rock climbing, cooking and spending time with her family and friends.
---
Liz, Registered Veterinary Technician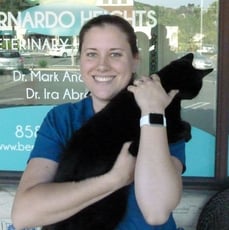 Liz has been an RVT for 6 years and has been working in the veterinary field for 15 years.
She graduated Magna Cum Laude with an Associates degree in Animal Science from Hartnell College (Salinas, CA) in June , 2010. She passed her state board exam and became an RVT in October of 2010. She has two animal kids at home; a wiener dog named Peter and an orange cat named Leonard.
They are best friends and rough house daily. She also has a two-year-old son named Henry and is grateful to be a full time mom and part time RVT. Her love for animals started at a young age and will continue into her old age.
---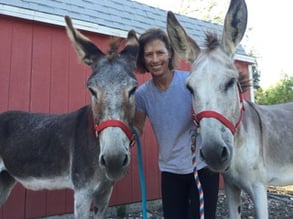 Nan, Registered Veterinary Technician
Nan began her career in animal health 30 years ago and never looked back! Although she has 2 donkeys, her focus has been on small animals here in San Diego. As a member of Mesa College Animal Health advising board, she finds mentoring and guiding entry level staff very important and rewarding. Her other interests include mountain biking, tennis, and keeping up with her children and grandchildren.
---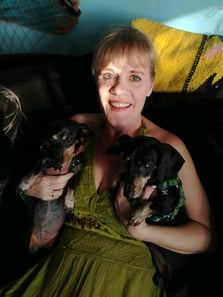 Ali, Veterinary Technician
Ali has been in the veterinary field for 20 years. She has 2 mini dachshunds "The Pooh" and "Winona" and a cat named "Yuri". In her spare time Ali enjoys reading classic literature, and learning about anything physics or science related.
---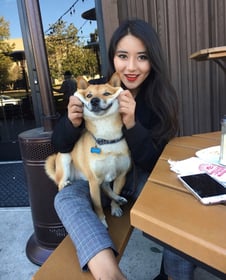 Evelyn, Client and Patient Care/Room Nurse
Evelyn has been working in the veterinary field for about 3 years now. She recently graduated from CSUSM with a degree in Biology. She is planning on continuing her education and is currently signed up for MCAT prep classes starting in August. She has always had pets and currently has an adorable 2 year old Shiba Inu named Mochi whom she takes everywhere. She spends her free time either doing school work or going out with Mochi hiking, to the beach or out to new restaurants.
---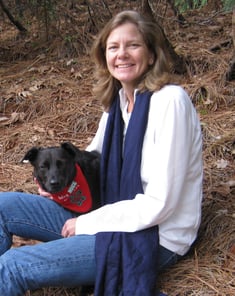 Barbara, Client and Patient Care/Room Nurse
Barbara joined the BHVH team in August of 2018. She started in the veterinary field in Grass Valley California were she worked at busy pet hospital while attending school to complete her Veterinary Technician Assistant Certification. After owning her own mobile pet grooming business for a number of years she decided to go back to the medical side of helping animals. She is currently enrolled in the Penn Foster program to become a Registered Vet Technician. In her free time she enjoys spending time with her dog Lily as well as travel, scuba dive, hike, cook, garden and read. During the spring and summer you can find her at Petco Park enjoying a baseball game.
---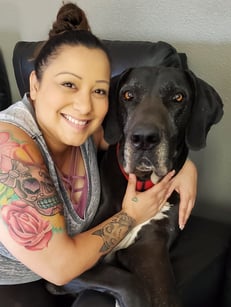 Aj, Client and Patient Care/Room Nurse
Aj was born in Tijuana and raised in San Diego. She has always had a passion for helping animals and has been in the field since 2008. She went to Pima Institute for both the Vet Assistant and Vet Technician programs. She shares her home with her husband Todd, daughter Kiara as well as her Great Dane "Kong" and her English Bull Terrier "Roxy". She also has 6 chickens and 2 tortoises! She treats all animals as if they were her own and looks forward to helping you with your fur babies.
---
Justin, Patient Care/Technician Assistant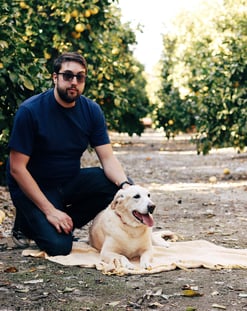 Justin has been working with animals since 2012 when he started at an animal shelter. He is currently enrolled in the Penn Foster online RVT program. He has just one dog, an 8 year old Labrador named "Bubby" and on his free time he enjoys hanging out with his young son and girlfriend as well as hiking and reading comics.
---
Chris Fenner, Hospital Administrator, Registered Veterinary Technician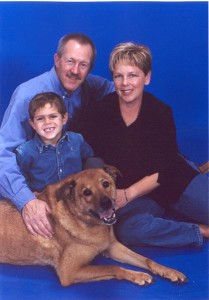 Chris Fenner opened Bernardo Heights Veterinary Hospital with Dr. Fenner in 1987, and has filled many roles since then. She grew up in California and Washington and wherever else her father's Navy career took them. She graduated from Ft. Steilicoom College with her degree in Animal Health Technology and has worked in multiple practices and the San Diego Zoo before and during working here. In addition to working here, she is a full-time mother to 14-year old Conor. All of her pets have always been family members to her.
---
Conor Fenner, Consultant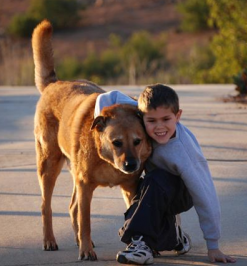 Conor Fenner is Dr. Fenner's 14-year old son. He works very hard at assisting the other team members and making sure that our patients have a boy to play with when necessary. He plans to become a veterinarian in 2024.
---
Marilyn Fenner, Hospital Cat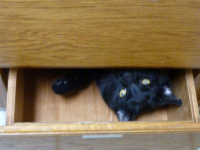 Marilyn (aka Mimi) is our most valuable staff member. She followed a client who was walking her dog home, and came to us because she had found more of a dog person than cat person. She is extremely friendly and happy to be a part of our staff. She rarely does anything bad and she enjoys moving from place to place to find a comfortable spot. Her hobbies are sleeping, eating, and playing with toys. If you look closely, you will see that her eyes move independently of one another.
---
In Memory of Dr Paul N Fenner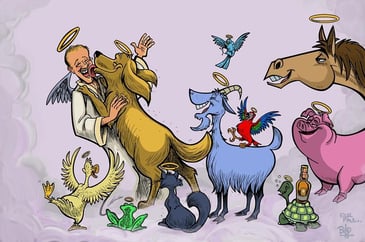 It is with a heavy heart that we notify our client families of Bernardo Heights Veterinary Hospital that our founder and friend Dr Paul Fenner lost his long time battle with Melanoma cancer over Labor Day weekend (2015). He passed away at his home with his wife Chris and son Conor by his side. The staff here at Bernardo Heights will miss his smile and sense of humor the most. He enjoyed caring for all of you and your beloved pets over his 28 year career here at our hospital. Sympathy cards can be sent to the hospital and we will pass them along to his family. In lieu of flowers, donations can be made to the animal rescue of your choice. In July, Dr Fenner selected Dr Anderson as practice owner to look over your beloved pets as he did. Dr Anderson, Dr Abrams, and the entire staff here at Bernardo Heights aspire to make Dr Fenner proud by continuing his compassionate approach to veterinary medicine.