Our Team

Dr Mark Anderson
Born and raised outside Albuquerque, New Mexico, Dr. Mark Anderson received his veterinary degree from Murdoch University in Perth, Australia. Prior to attending veterinary school, however, Dr. Anderson received his Bachelor of Science (B.S.) in Mechanical Engineering from Colorado State University. Dr. Anderson enjoyed working as an engineer in the environmental industry, which provided him with the opportunity to work throughout much of the western United States, including Wyoming, Washington, Utah, Nevada, California, and New Mexico. It was after spending a year working at a wind powered electrical plant in Costa Rica that Dr. Anderson made his way to Australia to fulfill his dream of becoming a veterinarian. Shortly after graduating from veterinary school, Dr. Anderson returned to the United States, quickly establishing deep roots in Southern California and making San Diego his home. Dr. Anderson stays up-to-date on the latest developments in the diagnosis and treatment of veterinary disease through countless hours of continuing education, and via membership to online boards, which gives him access to guidance from specialists throughout the world whenever the need should arise.
Over the years, Dr. Anderson has developed special interests, knowledge, and skills in soft tissue surgery, hip dysplasia, orthopedic disease, cruciate repair, stem cell therapy, dermatology, pain management, and ultrasound. Dr. Anderson is certified in the PennHIP radiographic procedure, which allows Dr. Anderson the ability to make appropriate recommendation(s) for corrective/preventative actions for dogs at risk of having hip dysplasia. His diagnostic credentials include, among others, certification through Oncura for diagnostic abdominal and cardiac ultrasound. Dr. Anderson is also a member of the American Association of Feline Practitioners, ensuring your feline pet th
e best management and care whether visiting the hospital for a wellness exam, or in the case of illness or injury. As well, he is a credentialed VetStem veterinarian, capable and skilled at applying stem cell therapy. He is also USDA accredited, allowing him to complete international and interstate pet travel health certificates.

One facet of medicine that Dr. Anderson particularly enjoys, is developing practical solutions (non-surgical and surgical) for difficult, unique, and/or chronic cases and problems. Challenge him with your pet's difficult problems — he looks forward to working with you to provide you and your pet with long term relief!

Dr. Anderson enjoys experiencing the world through the eyes of his hilarious and energetic 6 year old daughter and spending time with his wife. Together the three enjoy surfing, hiking, skiing and spending a lot of time being silly. They share their home with Spencer, a sweet and happy Papillon Chihuahua mix and Emmie, an energetic and loving golden doodle.
Dr. Anderson is excited to meet you and your furry family members!
---
Dr Ricarda Roberto
Dr. Roberto was born and raised on the small island of Guam, USA.Her first undergraduate years were spent in Hawaii at Hawaii Pacific University, then transferred to and graduated from UC Davis in Animal Sciences. She took a year prior to applying to vet school to work for a Veterinary Behaviorist, which led to small animal behavior being one of her many interests. Dr. Roberto then moved to Indiana to attend Purdue University College of Veterinary Medicine. Being a very tropical person, Dr. Roberto traded the mid-west's weather extremes for San Diego's ideal weather and proximity to the ocean.

Dr. Roberto's main focus is developing relationships with pet parents, providing options for care with all health issues, and practicing gold standard medicine to keep pets happy and comfortable at all stages of life. She is a member of the California Veterinary Medical Association, American Veterinary Society of Animal Behavior, and certified with USDA for international/domestic health certificates. Her special interests include pain management, behavior, dermatology, dentistry and internal medicine. Her main interests when not working are traveling internationally, trying new foods and learning about
other cultures. At home in her free time, she enjoys spending time with family or going to the beach with her husband and German Shepherd Mix, Tyrion. They also have two kitty fur children, Albus and Lupin.
---
Sara, Manager/Registered Veterinary Technician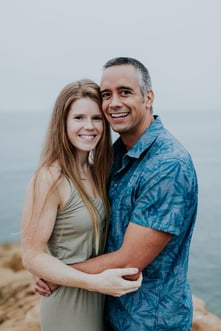 Sara received an Associates of Science degree in 2014. Sara has been working in the veterinary field since 2011. She moved to San Diego in July of 2017 from Elkhart, Indiana where she grew up. Sara has one dog, a papillon mix named Spencer. Sara enjoys spending time with her family doing various activities including camping, snow boarding, surfing, hiking and rock climbing.
---
Leslie, Manager/Registered Veterinary Technician

Leslie has been in the veterinary field since 2001 when she started as a kennel assistant. She has worked at multiple practices throughout San Diego and received her RVT credential in 2009. She worked for many years as a RVT, then as practice manager here at BHVH. She left us briefly to pursue a position closer home and her young daughter but found that it was no comparison to the quality care given here at BHVH! In her spare time she enjoys spending time with her family camping at the beach or hanging out at the San Diego zoo.
---
Sandi, Registered Veterinary Technician

Sandi is a native San Diegan who graduated from UCSD with a degree in biology. She started working in the veterinary field in 1990 and received her RVT license in 1994. In her free time, Sandi enjoys reading, skiing, rock climbing, cooking and spending time her family and friends.
---
Megan, Lead Registered Veterinary Technician

Megan has been in the veterinary field since 2010 and received her RVT license in 2012 . She has 2 pets, a dog named Stella, a chihuahua mix and a cat named River. She loves hanging out with family, friends and her pets in her spare time. Her hobbies include paddle boarding at the beach, off-roading, and camping in the desert .
---

Brianna, Lead Receptionist
Brianna obtained her Associates Degree in Science and Math from Palomar College in 2015. She has worked in the Veterinary field since 2019 as a veterinary assistant. Brianna has one dog, Roo, a bull terrier mix that she and her husband adopted in August of 2020. Brianna and her husband got married in September of 2020. She received her 200 hour YTT in September of 2021 and is beginning to promote group classes in nature. When she is not studying yoga, she loves to hike, bike with her dog and have friends and family over for cookouts.
Khaila, Patient Care

Khaila was Born in Hackensack New Jersey and moved to Indiana with her family when she was 12. She went to college in Michigan and moved to San Diego in 2017. She's been in the veterinary industry on and off for about 4 years now. Her end goal is to be a wildlife veterinarian and she's currently taking classes to get into vet school. She loves people
and all things furry, scaly and otherwise but has an extra soft spot for her 7 year old pit bull mix, Ginger. Outside of work Khaila loves working out, trying all kinds of new foods, and taking Ginger to see new things, both near and far.
---
Evan, Technician

Evan was born in Riverside, CA and raised in Vista, CA. He started his veterinary medicine career in 2017. Evan has a degree in Psychology/

Sociology. He is obsessed with Lord of the Rings and enjoys doing outdoor activities, especially anything to do with bodies of water. Evan does not currently have any pets, but he is the designated "tiny dad" for his best friends pets. Evan loves veterinary medicine and is passionate about animal health. He also enjoys training with exotics such as reptiles, birds and pocket pets.
---
Melissa, Patient Care

Melissa joined our team in November 2019. She feels lucky to be able to combine her lover of caring for animals with her work at BHVH. She obtained her BA from UC Santa Cruz. Melissa was a teacher and professional photographer before joining the veterinary field. Her hobbies include photography, fostering cats through the humane society and finding ways to add animals to her urban farm/home. Melissa and her family currently have 1 dog, 1 cat, 3 ducks, a tortoise, 2 rats and a fish.
---
Ashley, Patient Care

Ashley is a pet lover with over 5 years of experience in the veterinary field. She is a mom of two great kids and over 6 pets. In her free time she loves to dance, paint and ice skate. Ashley joined our team in October 2022 as a room nurse and she is excited to meet you and your furry family members!
---
---
Lily, Patient Care

Lily was adopted from China in 2001 and has lived in San Diego since 2008. She graduated from Hawaii Pacific University with a Bachelors in General Biology in 2022. During her senior year, she volunteered at the Hawaiian Humane Society as Shelter Clinic Support to gain experience in the veterinary field. In the summer of 2021, Lily completed an internship at the California Wolf Center, which guided her to realize her end goal of working with wild life. Lily enjoys hiking, photography and hanging out with her fur family.
Chris Fenner, Hospital Administrator, Registered Veterinary Technician
Chris Fenner opened Bernardo Heights Veterinary Hospital with Dr. Fenner in 1987, and has filled many roles since then. She grew up in California and Washington and wherever else her father's Navy career took them. She graduated from Ft. Steilicoom College with her degree in Animal Health Technology and has worked in multiple practices and the San Diego Zoo before and during working here. In addition to working here, she is a full-time mother to 14-year old Conor. All of her pets have always been family members to her.





---
Conor Fenner, Consultant

Conor Fenner is Dr. Fenner's 14-year old son. He works very hard at assisting the other team members and making sure that our patients have a boy to play with when necessary. He plans to become a veterinarian in 2024.




---
Marilyn Fenner, Hospital Cat

Marilyn (aka Mimi) is our most valuable staff member. She followed a client who was walking her dog home, and came to us because she had found more of a dog person than cat person. She is extremely friendly and happy to be a part of our staff. She rarely does anything bad and she enjoys moving from place to place to find a comfortable spot. Her hobbies are sleeping, eating, and playing with toys. If you look closely, you will see that her eyes move independently of one another.
---
In Memory of Dr Paul N Fenner
It is with a heavy heart that we notify our client families of Bernardo Heights Veterinary Hospital that our founder and friend Dr Paul Fenner lost his long time battle with Melanoma cancer over Labor Day weekend (2015). He passed away at his home with his wife Chris and son Conor by his side. The staff here at Bernardo Heights will miss his smile and sense of humor the most. He enjoyed caring for all of you and your beloved pets over his 28 year career here at our hospital. Sympathy cards can be sent to the hospital and we will pass them along to his family. In lieu of flowers, donations can be made to the animal rescue of your choice. In July, Dr Fenner selected Dr Anderson as practice owner to look over your beloved pets as he did. Dr Anderson, Dr Abrams, and the entire staff here at Bernardo Heights aspire to make Dr Fenner proud by continuing his compassionate approach to veterinary medicine.