Welcome To Bernardo Heights Veterinary Hospital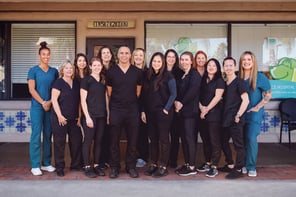 Bernardo Heights Veterinary Hospital is proud to serve Rancho Bernardo, Escondido, Rancho Penasquitos, Poway, Scripps Ranch, 4S Ranch, Rancho Santa Fe, Torrey Highlands, Mira Mesa, Fairbanks Ranch, Ramona, Valley Center, San Marcos.
We believe that well-informed owners can provide better care for their pets. For this reason we try to explain to you the details of your pet's diagnosis, treatment, and prognosis. If you have any questions at any time about your pet's condition or about pet health care in general, do not hesitate to ask, we love giving you the information necessary to make informed decisions.
One facet of medicine that Dr. Anderson particularly enjoys, is developing practical solutions (non-surgical and surgical) for difficult, unique, and/or chronic cases and problems. Challenge him with your pet's difficult problems — he looks forward to working with you to provide your pet with long term relief!